Because there are many sources for a potential error, it can be difficult to understand where those logs are kept, and how to access those logs.
When you're missing a post, the best place to check first is the Feed History. This will tell you if there was a post found, or if the Feed was experiencing any errors.
To access the Feed History, click on the Feed in question, and click on the History button: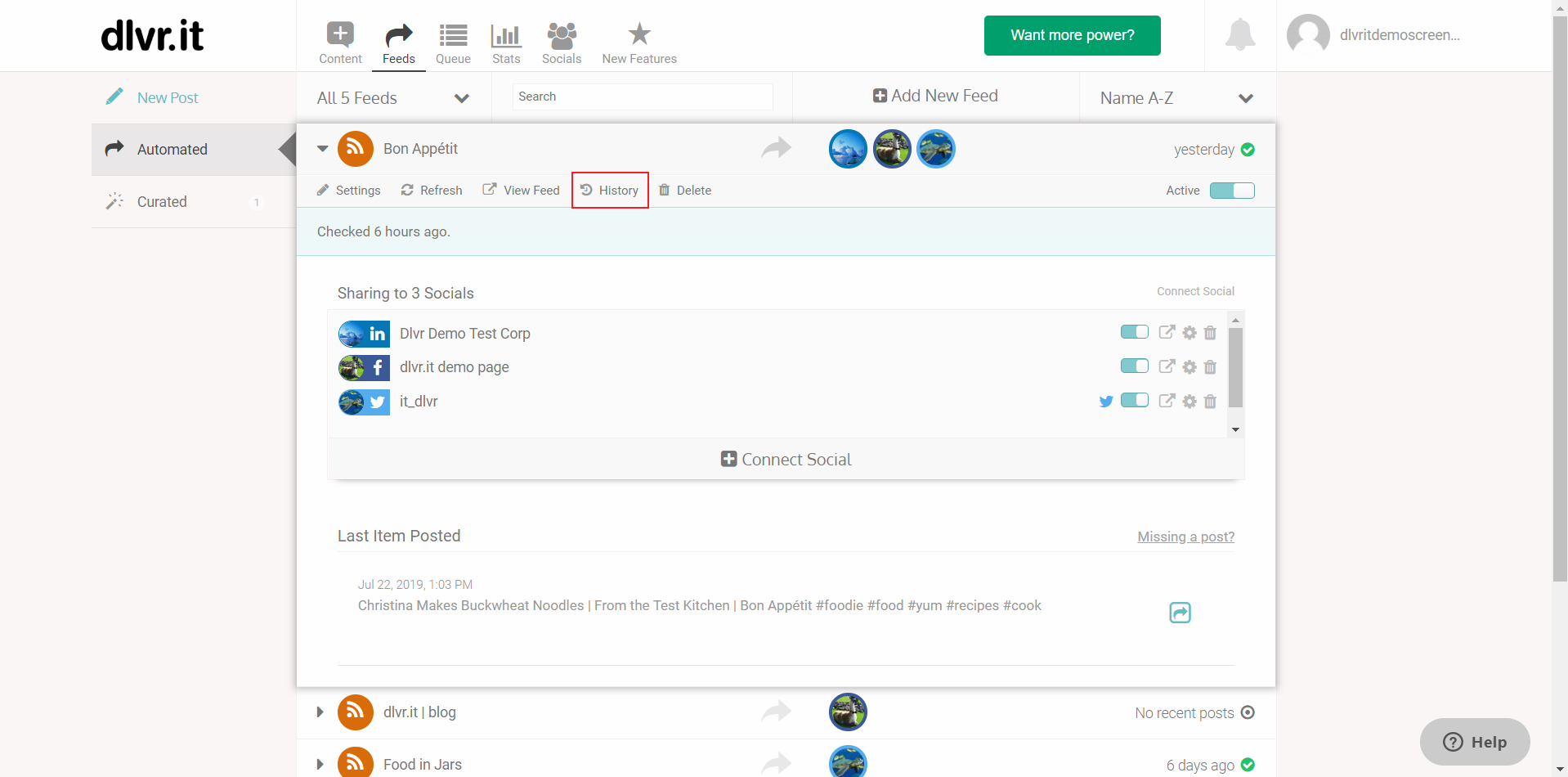 Your History will look like this: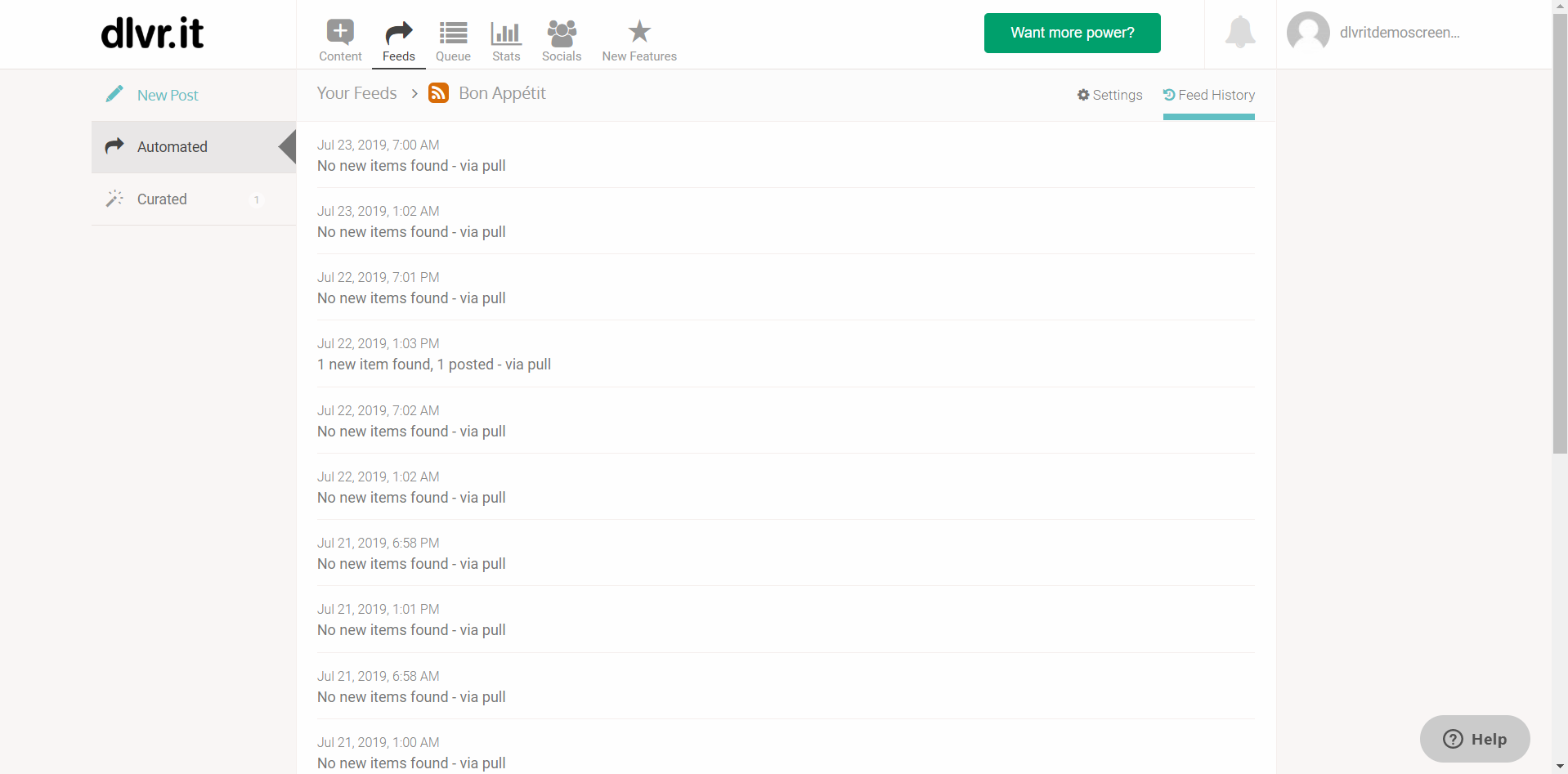 In this section, you may find an error that indicates that you've reached your post limit. This error happens because you've reached the maximum updates configured in your feed settings. If you do encounter this error, you may need to update your posting limit to reflect more posts being allowed during any given day. Each feed is limited to 250 posts per day, though you are allowed unlimited posts for each social media account on the Pro plan.
For instructions as to how to update this limit, take a look at our support document.
If there are no errors found, then there might have been an issue posting before it was sent to your Socials.
To access your error log on your Socials, click on your Socials tab: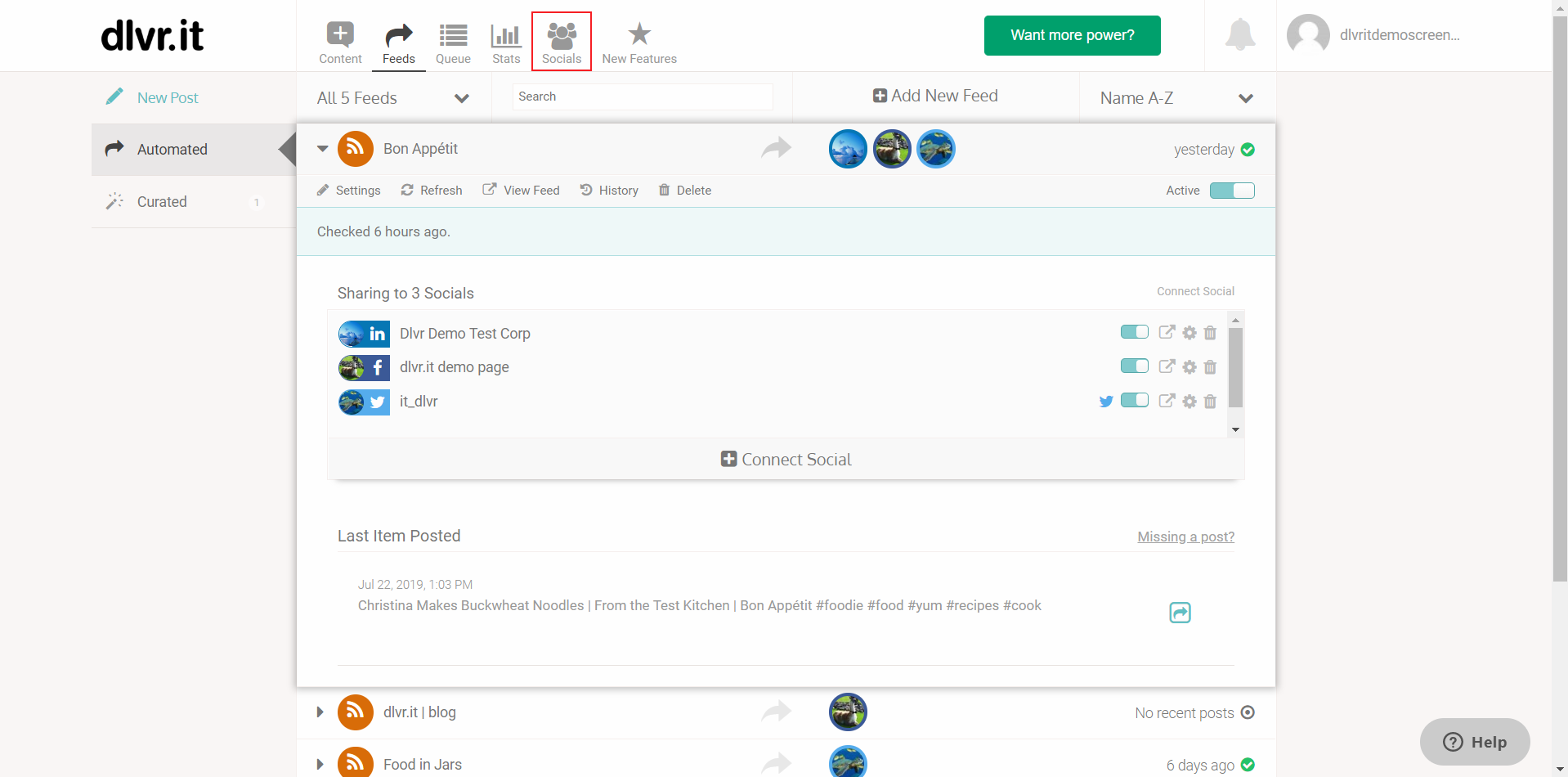 Then click on the Social to expand it, and click on the Errors button: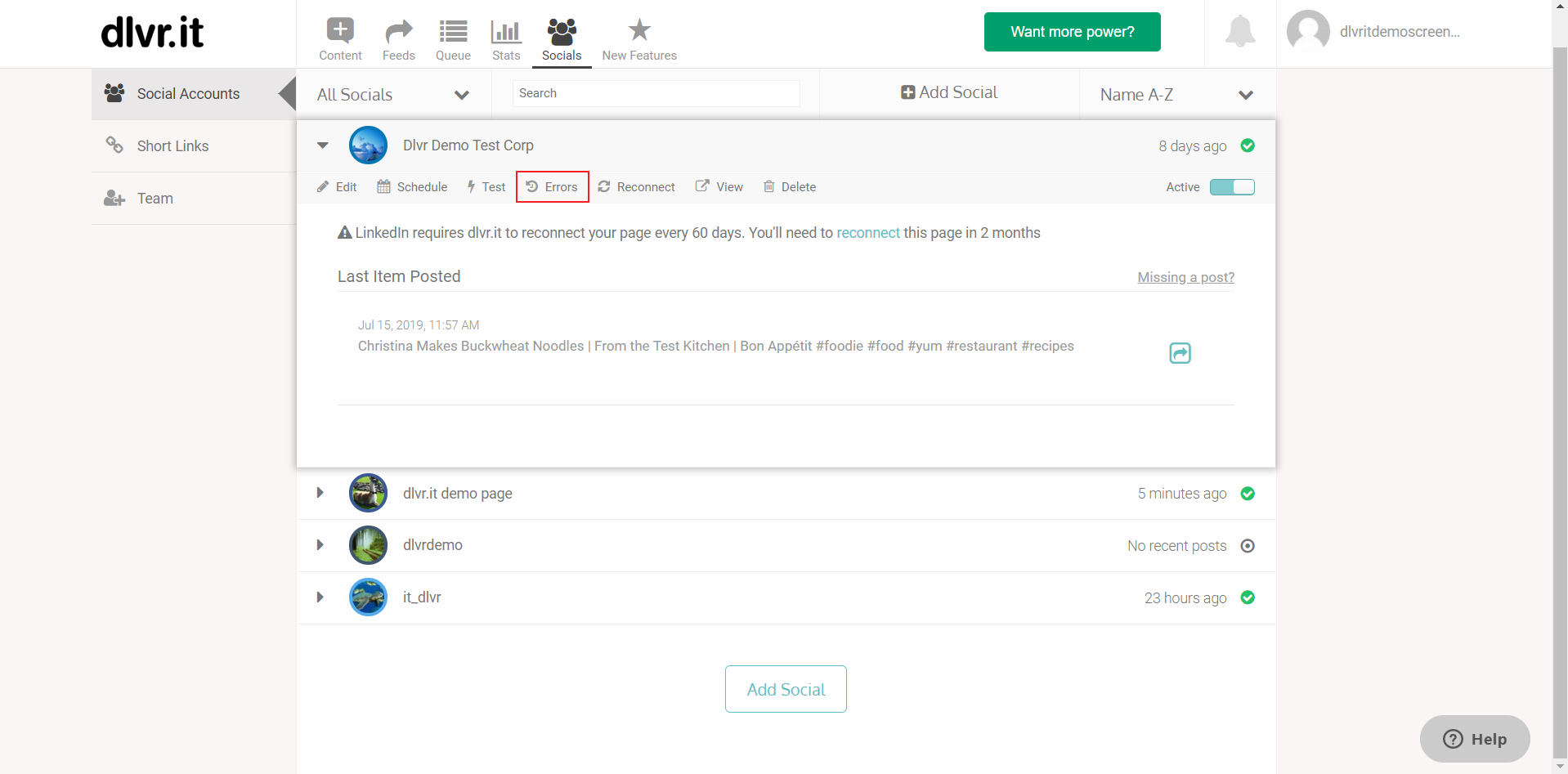 The resulting page will look like this:
Some common errors that might appear here may need some explanation. Most commonly, you will find Twitter post errors in this section. This will relate to duplicate posting in some cases. For more information about duplicate posting rules, check out our document about new Twitter rules here.
Image Errors
You may also see errors related to images for Pinterest posts. dlvr.it has recently updated our image sizing requirements to reflect a minimum of 400x300 to align with our strictest service. If your images are not within these size requirements, they will not be posted. Since Pinterest is an image-based platform, if these images are undersized, Pinterest will reject the post.
Facebook Restriction Errors
If you're seeing errors for your Facebook pages or groups, you may be posting too quickly for these features. Facebook will sometimes restrict automated posting via their API, particularly with groups. If you are seeing this error, we recommend reaching out to Facebook at their help site for further assistance.
You may also find that your posts disappear from the social media platforms. If this happens, dlvr.it cannot troubleshoot the issue because they were removed from the social media platform side. However, we can say that most social media posts are removed due to violations of community standards.
Rate Limit Errors
You may also see a Rate Limit Reached error. If you are on our Basic plan, this means that you've reached the limitation of the Basic plan posts for the day. The error will have a timestamp listed, and after that timestamp expires, we will resume posting new items. Any items that were located during the rate limit will be discarded. If you need more posts per day, we highly recommend that you consider upgrading to our Pro plan!
Google My Business Errors
In the case of Google My Business, you may also see an error that states "Post error: Creating/Updating a local post is not authorized for this location." This error means that your business listing may belong to a category that is not currently eligible to post. The most notable category that is not eligible for posting is the "hotels/lodging" category.
If you are finding errors that are not listed in this document, you can check out our error glossary here.
Any errors resulting from content that didn't make it to your Social will be listed in either the Feed history, or in the Error log.
What if there aren't any errors?
If you don't see any errors, there might be something going on in your feed. Check out our support document that addresses these issues.
With any questions, please email support@dlvrit.com.
Keyword: top5