We understand that migration from Twitterfeed can be difficult. Our RSS Feed settings will help you specifically designate the Content that you want us to post to your Socials. We have a dashboard available for you to access all of your Feeds and Feed Settings quickly and easily.
The front page of an expanded Feed looks like this: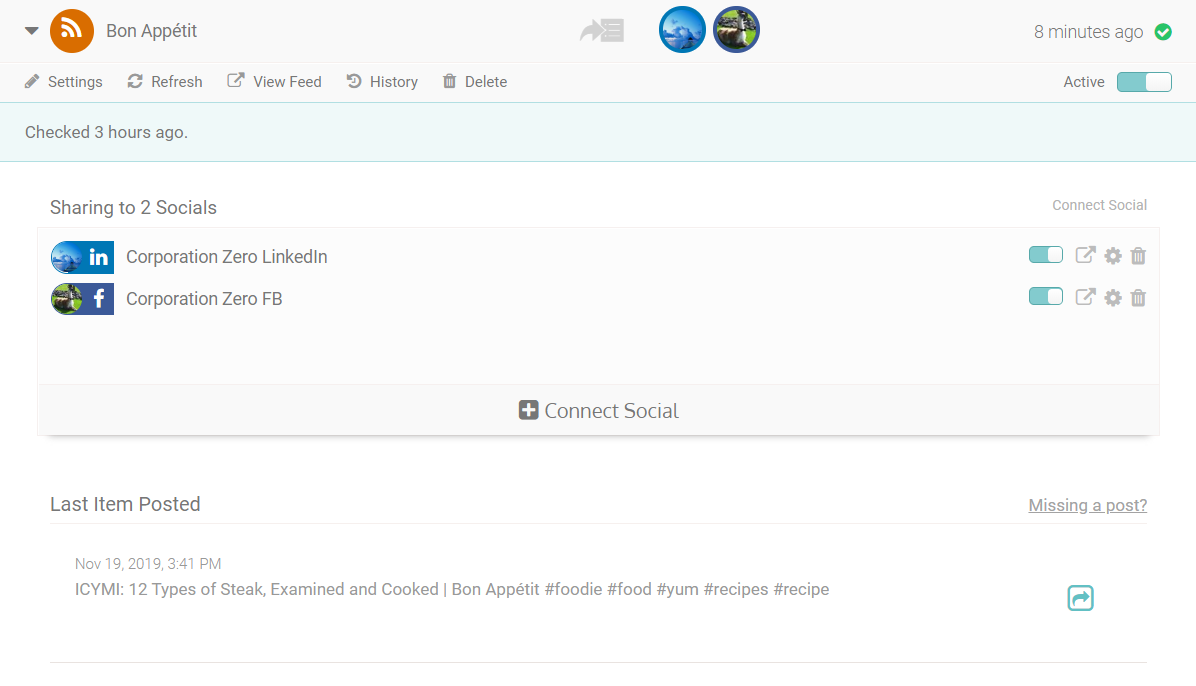 After you click on the Settings button, you have many options to select to specify your Content.
Detail: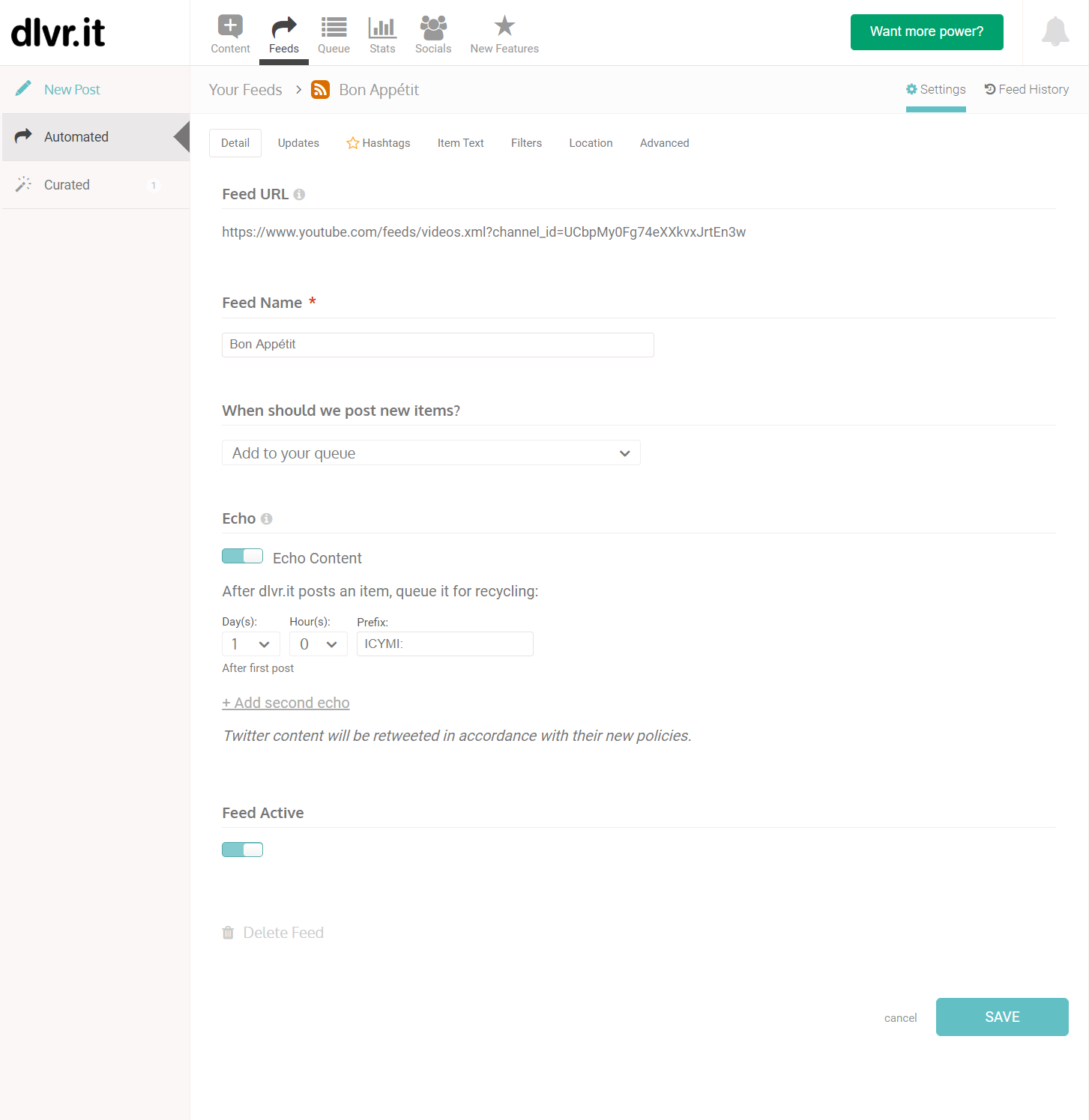 Feed URL: This is the URL that we use to retrieve your Feed
Feed Name: The name of the Feed. You are able to edit this
New Items: This determines where new items go. You can send them immediately to your Social Media accounts, or you can send them to your Queue
Echo: This setting is available to our Pro, Plus, Agency, and Agency+ users. This will allow you to repeat items up to 2 additional times automatically. The posts can be no more frequent than every 24 hours, and must include a prefix.
Feed Active: This is the switch that allows you to make the Feed stop posting temporarily
Updates: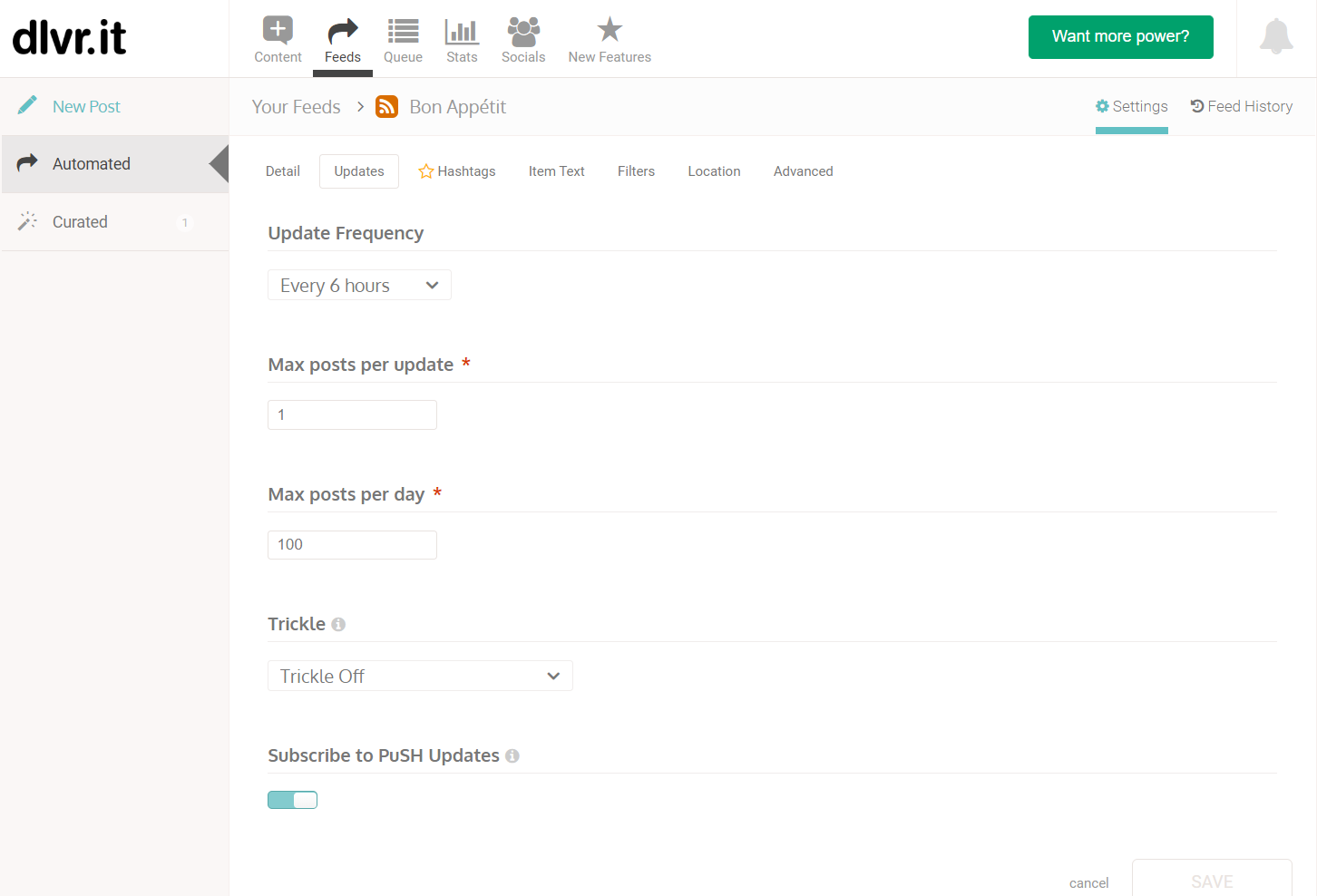 Update Frequency: set updates for every 30 Minutes, 1 Hour, 3 Hours, 6 Hours, 12 Hours, Once a Day
Max Posts per Update: the maximum number of posts you wish us to send out per update
Max Posts per Day: this is the maximum number of posts you wish us to send out per 24 hour period
Trickle: Activate the option to slowly send out your Content by Oldest Item, Newest Item, or Random order
Subscribe to PuSH updates: this will allow your Feed to send us Content as soon as it is posted
Hashtags: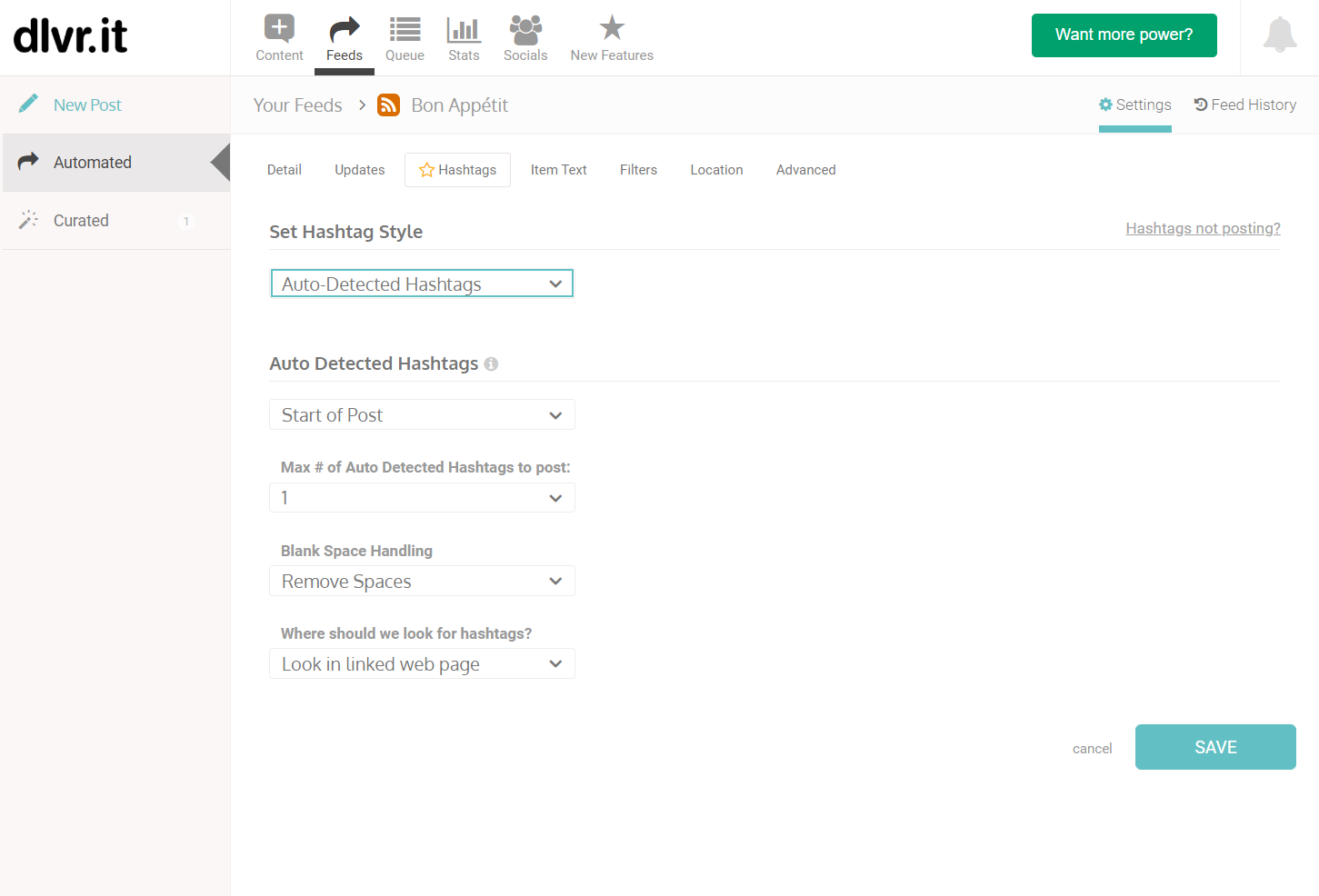 Set hashtag style: Fixed/Dynamic will post the same hashtags on all posts. Auto-detected hashtags will post based on tags
Other settings based on style.
Item Text: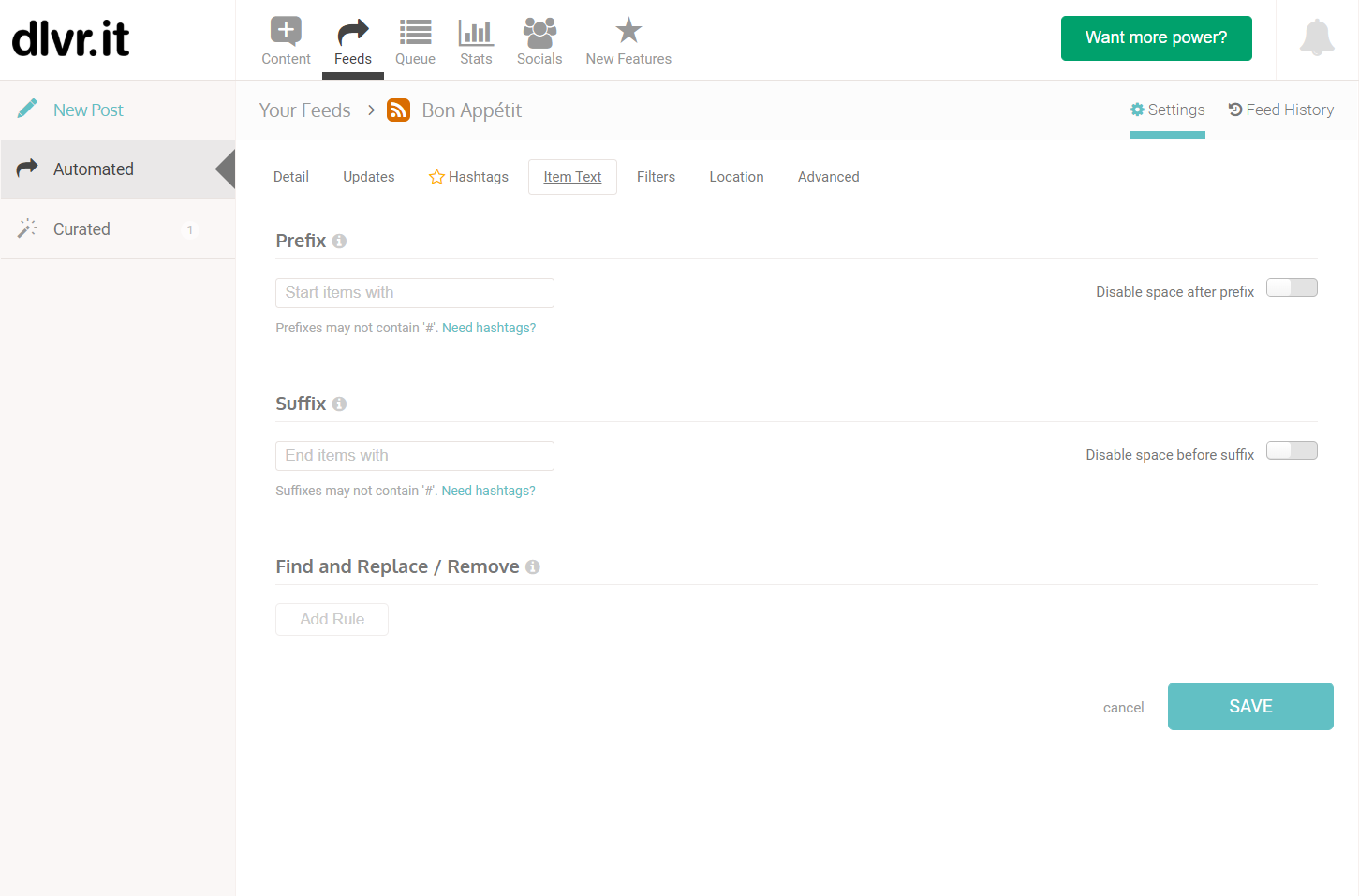 Prefix: add text before each one of your Posts for this Feed. Note that any Prefix text in your Socials will override this text
Suffix: add text after each one of your Posts for this Feed. Note that any Suffix text in your Socials will override this text
Find and Replace/Remove: Find a certain phrase or word and replace it with a different phrase or word, or even remove it completely. Note that any settings for this option in your Social will override this option.
Filters: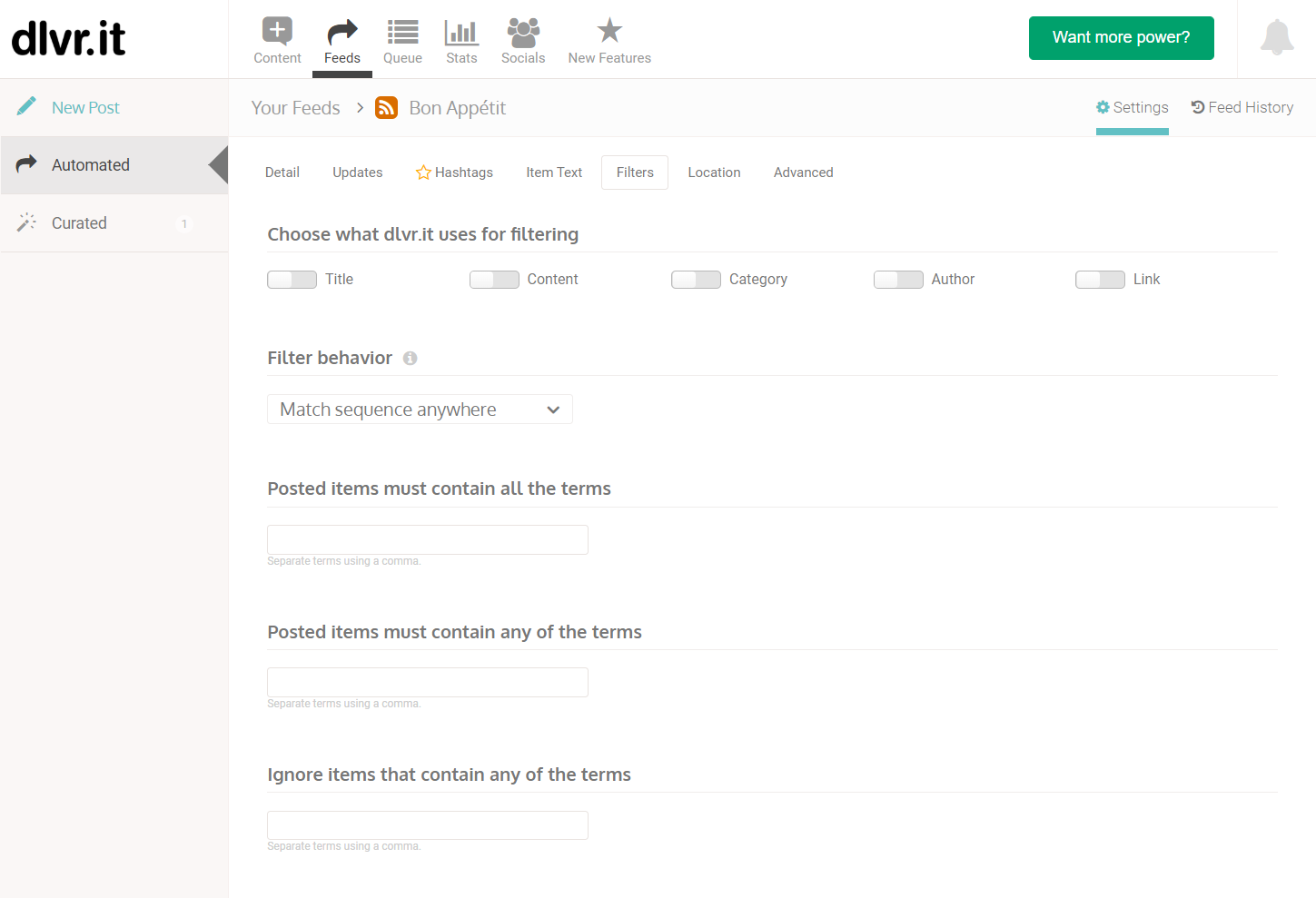 Options for filters are: Title, Content, Category, Author and Link
Filter behavior: This allows you to select how the filter is applied
Posted items must contain all the terms: this means that we will look for Content that contains all of your specified terms
Posted items must contain any of the terms: this means that we will look for items that contain any of the keywords that you provide
Ignore items that contain any of the terms: this means that we will ignore Content that is included with any of your keywords
Location: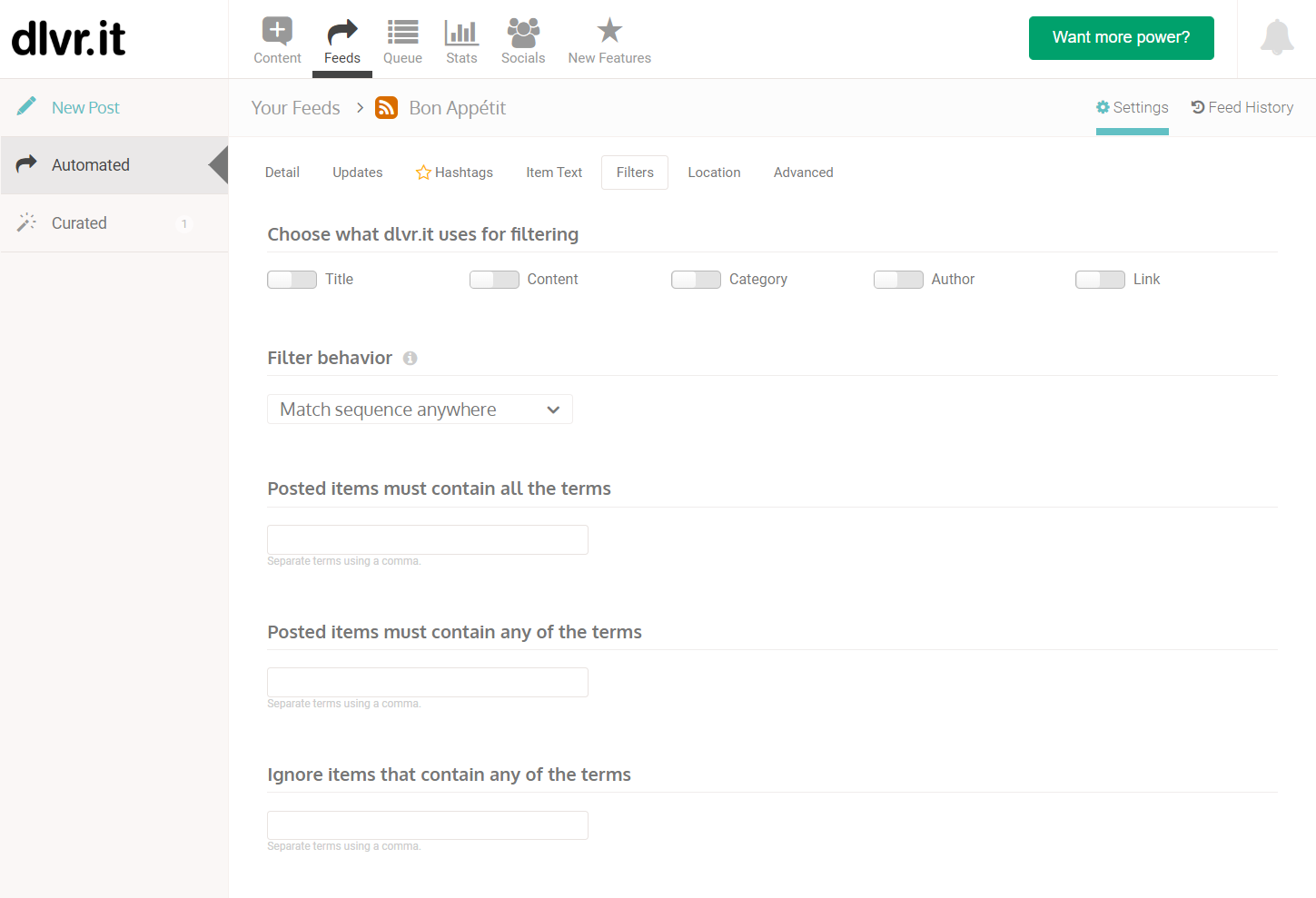 Toggling this switch will allow you to add location tags to your Posts
Advanced: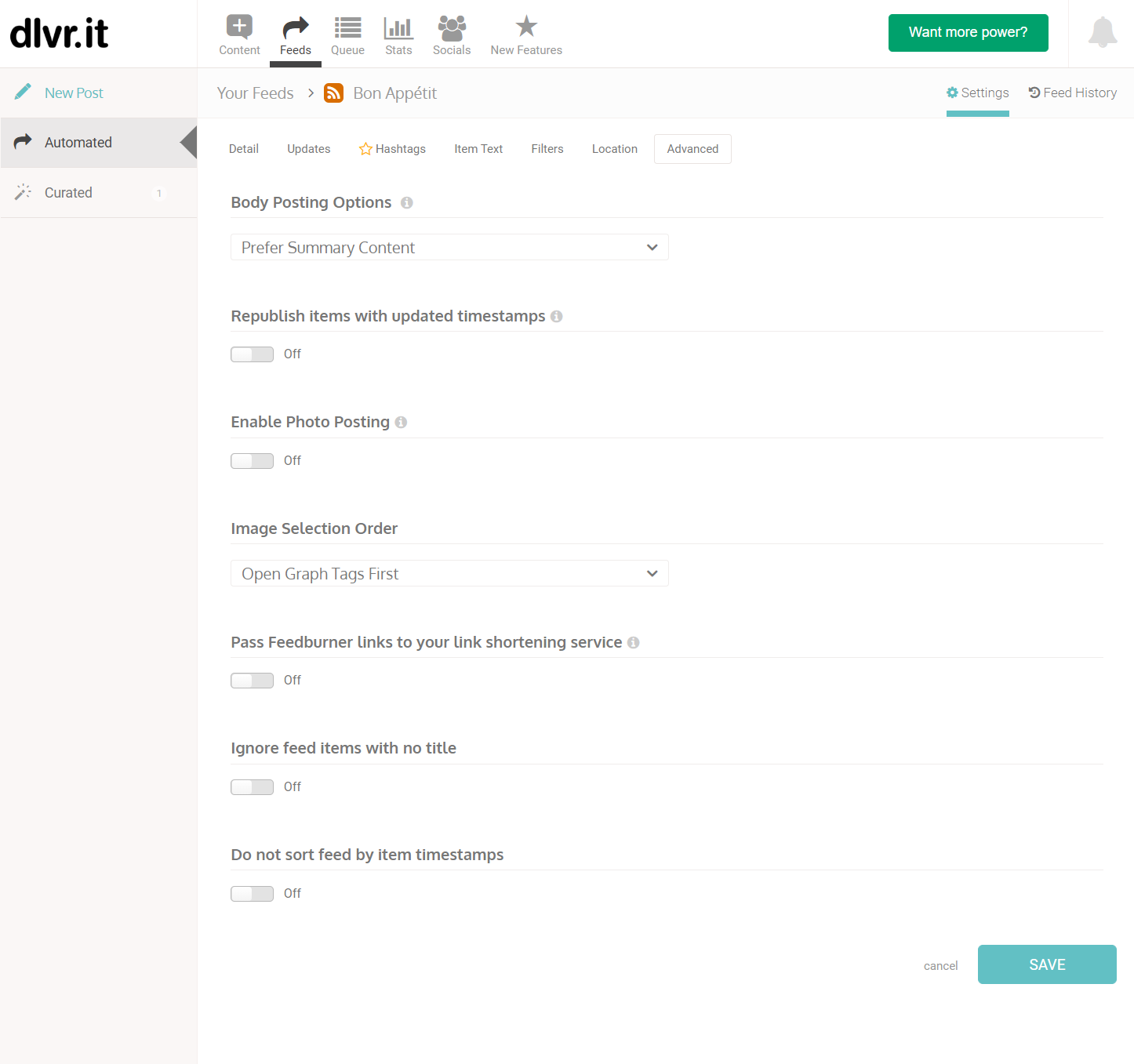 Body Posting options: To enable posting of Body content, you first need to enable this on the destination set up.
Summary Content: usually a concise description of the article included in your feed items.
Full Content: usually the full article from your website/blog.
Prefer Summary Content: If available, Summary Content will post. If Summary Content is not available, Full Content will post.
Republish items with updated timestamps: Items with updated timestamps will be considered 'new' and eligible for re-posting with respect to the other limits defined on this feed.
Enable photo posting: activate photo posting and dlvr.it will share photos to your social networks! When dlvr.it finds shareable images in your feed content we'll make photo posts to your socials networks.
Image Selection Order: this option will help us determine which images to post.
Pass Feedburner links to your shortening service: Applies to FeedBurner hosted RSS Feeds only.
Feedburner add tracking links to feed items to enable click tracking. By default dlvr.it passes the original link (untouched by Feedburner) through to your shortening service.
Select this option if you prefer dlvr.it to pass your Feedburner tracking links to your shortening service.
Ignore feed items with no title: do not post items that have no title tagging present
Do not sort feed by item timestamps: do not take timestamps into account when reviewing your Feed.
---
Try it! Save hours each week with dlvr.it's powerful Twitter automation tool.