dlvr.it can optimize your social media posting in a few different ways.
Understanding Your Content Sharing Options: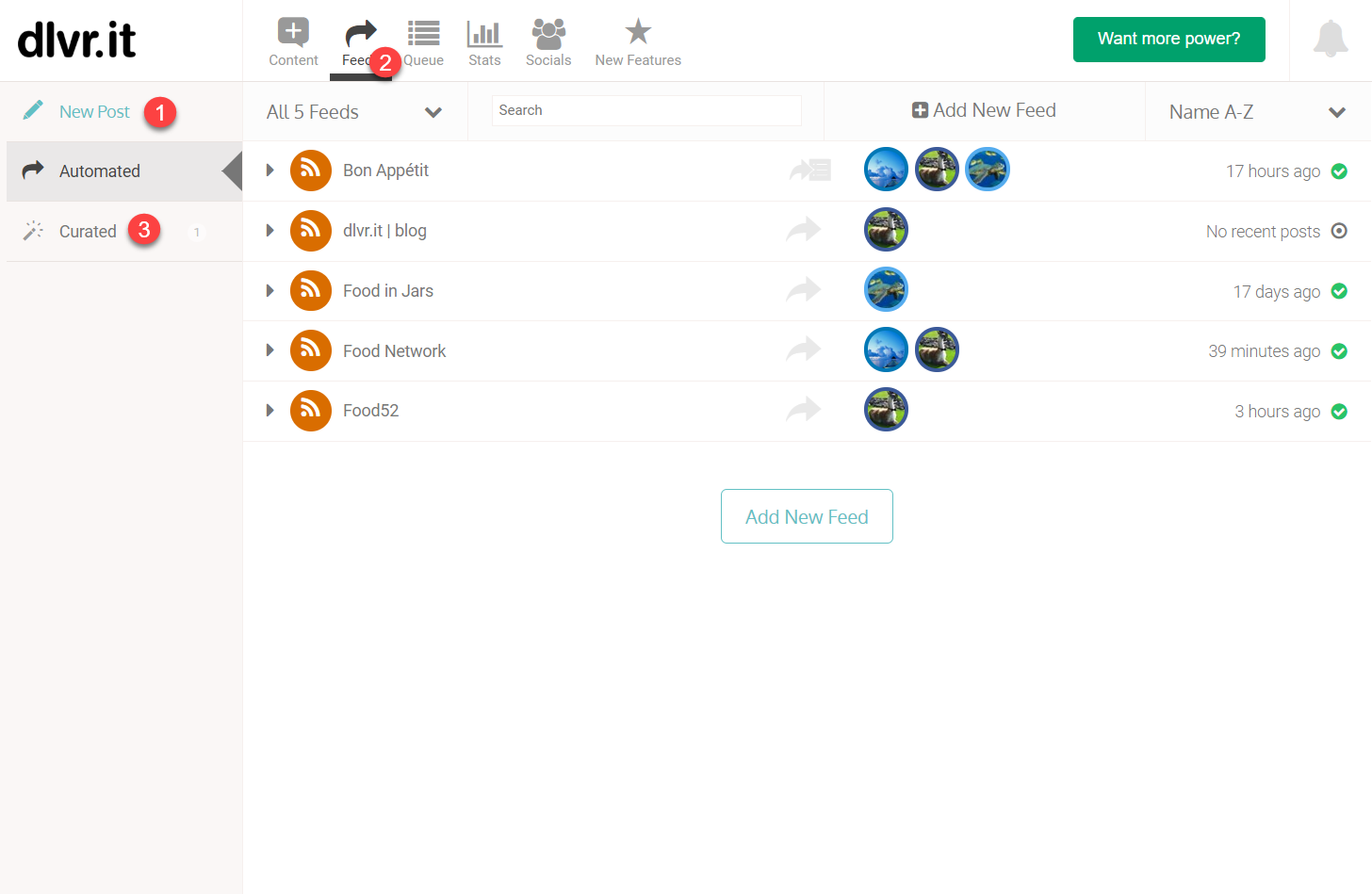 Content sources:
1) New Post: Manually create an update, share it now or schedule it in the future.
2) Automate: RSS-to-Social
3) Curate: Find and manually select content on a particular topic relevant to your audience. This content is pulled in via a feed or using our browser add-on.
Scheduling:
Queue: Drips your posts out on an optimized daily schedule.
Automation: Set it up once. When you add an item to your feed, we'll post it according to the rules you set. Depending on your dlvr.it plan, we look for new items in your feed every 15 - 30 minutes.
Setting up a Feed
Setting up a Feed starts from our Automate page. When you start with dlvr.it and log in, our dashboard will automatically direct you to the Automate tab with the option to select a new content source.
Step 1: Use one of our many content options to find your content source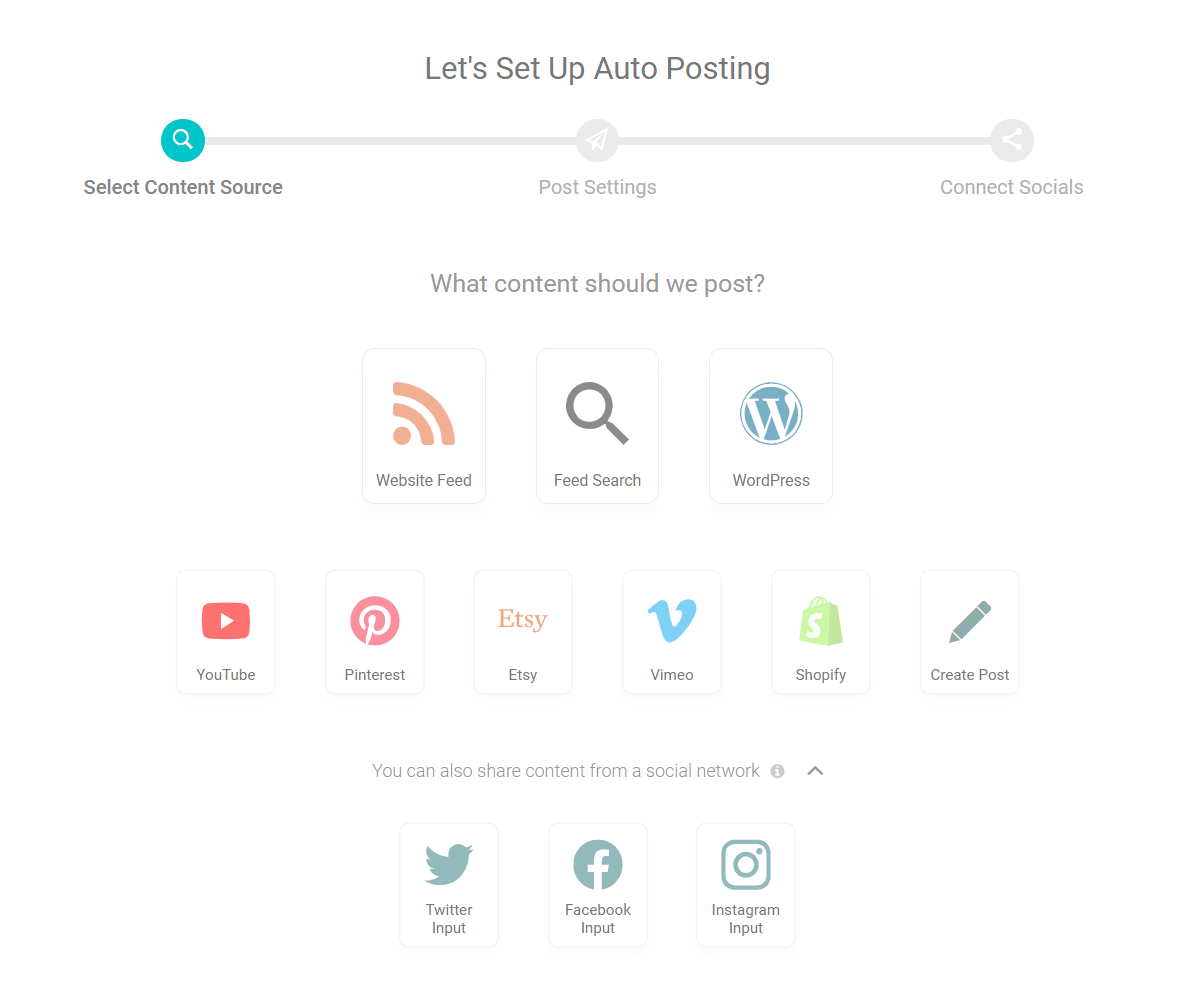 Follow the steps provided for your content source.
Step 2: Configure the Feed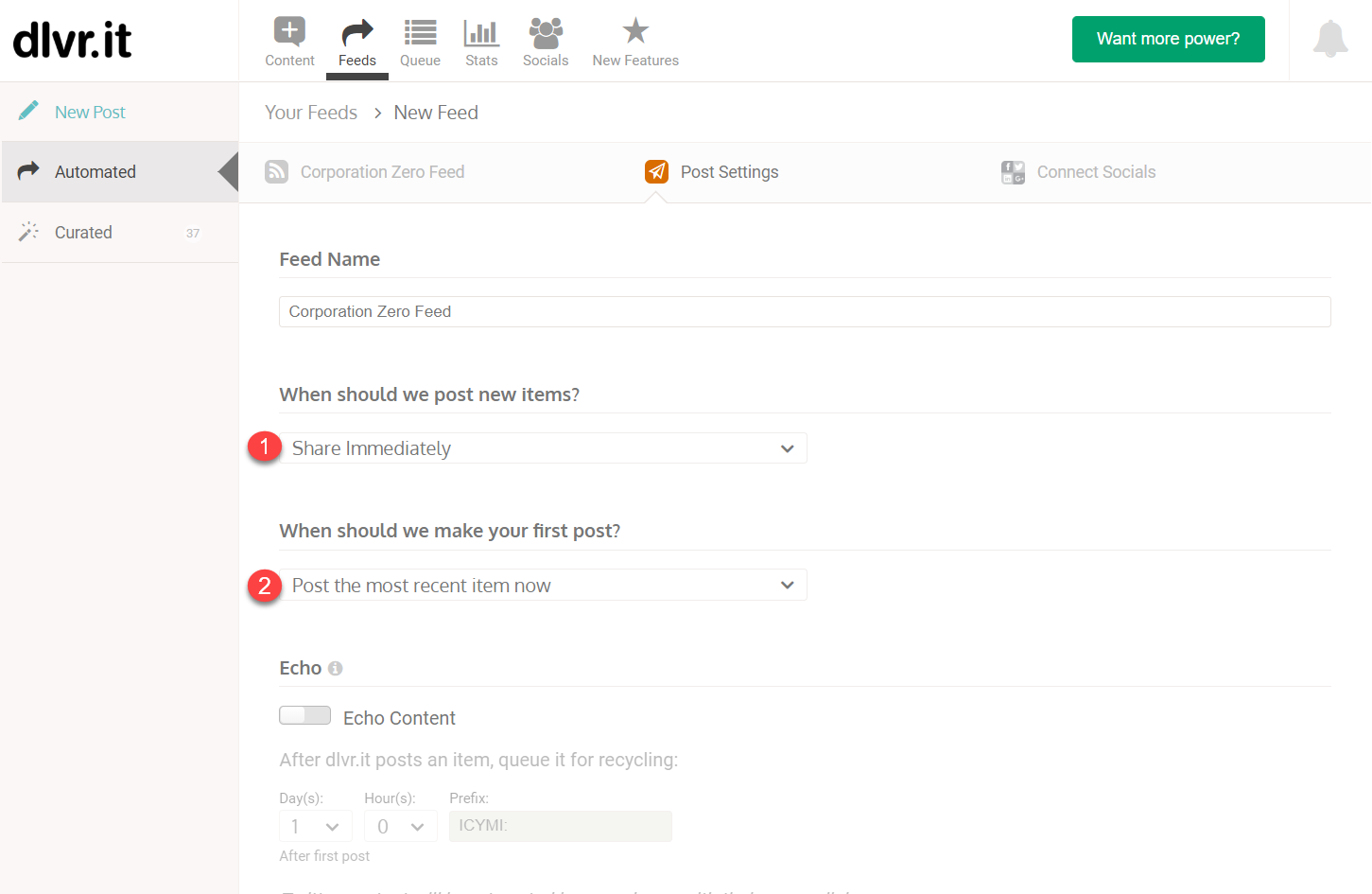 1) New Items: Determine what you want to do with new items we find in your RSS feed.
a) Share immediately
b) Add to your queue: share items on a predetermined schedule
2) First Post
a) Post the most recent item now
b) Post when a new item is published
c) Post all items (up to max)
Click Connect Socials to go to the next step.
Step 3: Add your Socials to the Feed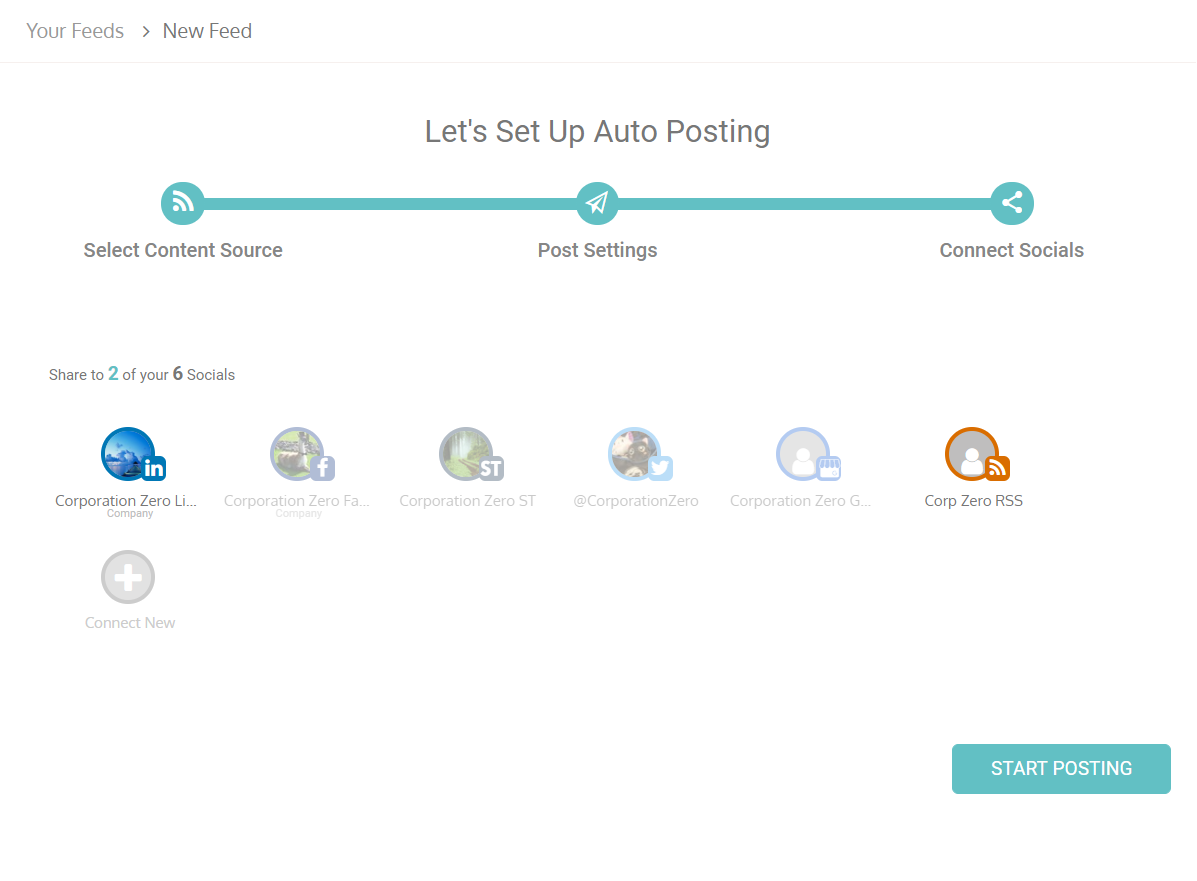 Tell us where you want your content sent. You have several options to add a social network to your source feed.
1) Choose an existing social network
2) Click "+" to add a social network

Once you have all the social networks added, click Save.
Your Dashboard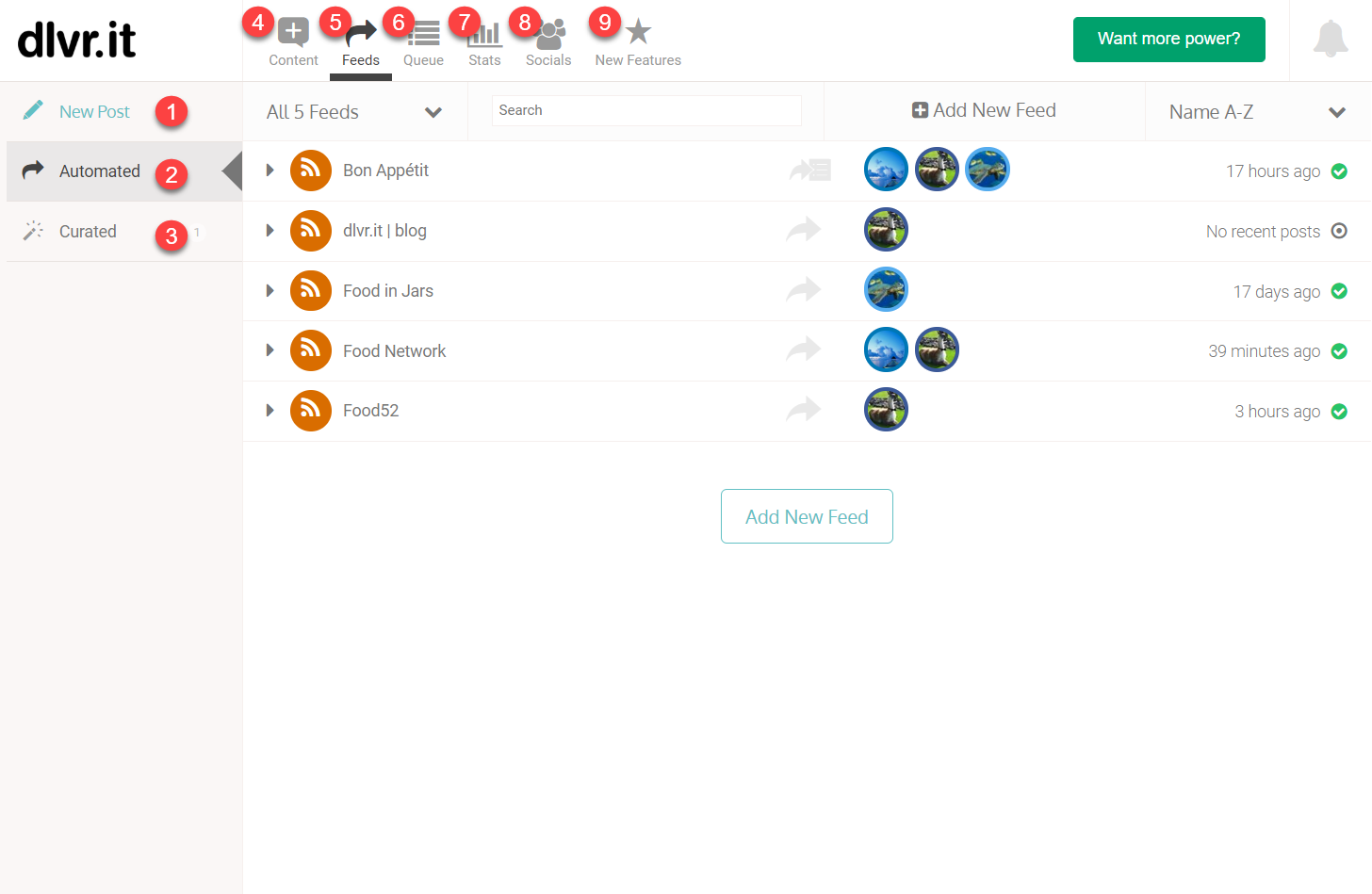 1) New Post: A place to create one-time updates with text and images to be shared now or in the future. Ideal for promotions, PR releases, or any one-off or unique announcements.
2) Automated: A smart auto-scheduling feature that makes it easy to share images from Pinterest or Instagram, video feeds, Twitter feeds and RSS feeds.
3) Curate: Find, organize and share the best and most engaging content on a particular topic relevant to your audience. Each story awaits your direction: You can share now, schedule it for the future or delete it. [Read more on content curation and why you need to include it in your social media strategy.]
4) Content: This is a link to our new, powerful set of features that will allow you to import content in bulk as well as search socials and the web for content to import. You can also import a CSV file in this area.
5) Feeds: A link to your dashboard that will show you all the Feeds you have set up to either send straight to your Socials, and send to your Queue.
6) Queue: An auto-scheduling feature that makes it easy to share images, videos or blog posts created by you or good stuff you find while browsing the web from any device. More about Queue.
7) Stats: Get a quick, up-to-date view of everything you shared with your social media audience. Key metrics include audience growth, item clicks, posting volume, popular items, and geographic distribution.
8) Socials: Access and manage all your social media accounts connected to dlvr.it. Update global settings including prefixes and suffixes, add/delete 3rd party analytics (i.e., Google Analytics) and auto hashtags. Here you can also add new short URLs.
9) New Features: This is an overview of the latest and greatest features that dlvr.it has to offer.
Explore the RSS Source Editor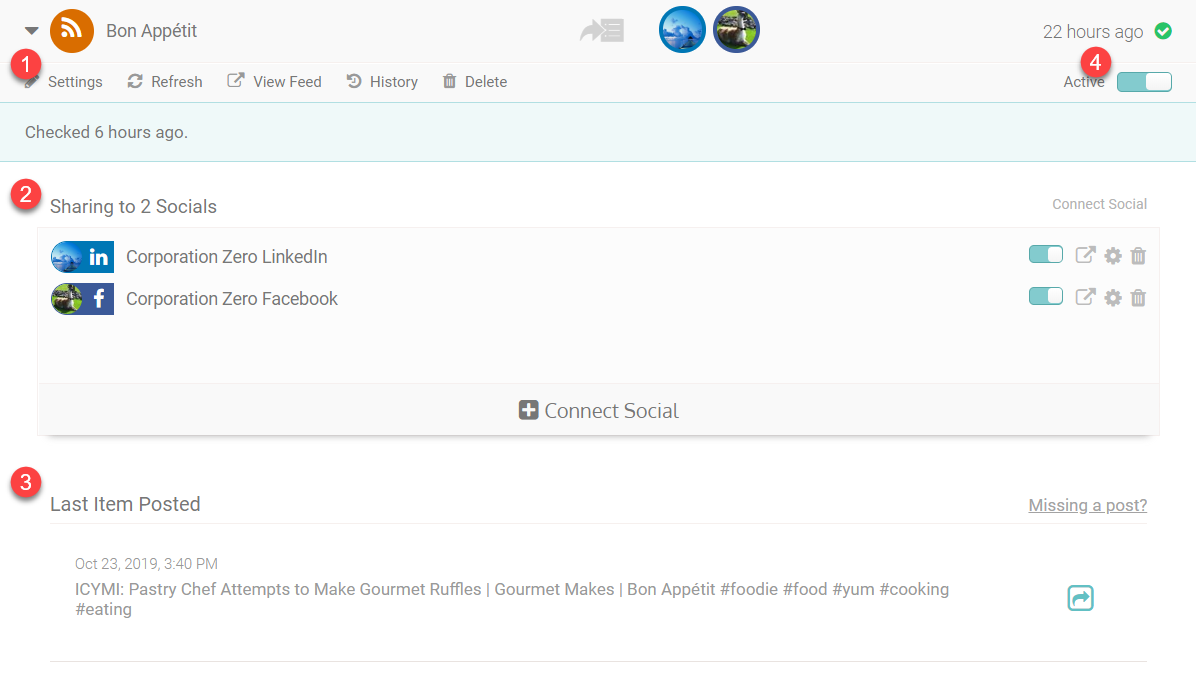 In the Automate tab, click on any RSS feed to review additional features.
1) Settings: This is where you can customize the look of your updates, turn on hashtags, determine how much and how often the feed posts to your social accounts.
2) Sharing to X Social(s): For the particular feed, you can see what social network is connected.
3) Last Item Posted: If you posted any content, you can see a summary of the last item pulled from the feed.
4) Active: Activate or deactivate the feed from posting to your social accounts.
Curating your Content
Step 1: Search by site name or enter the RSS feed URL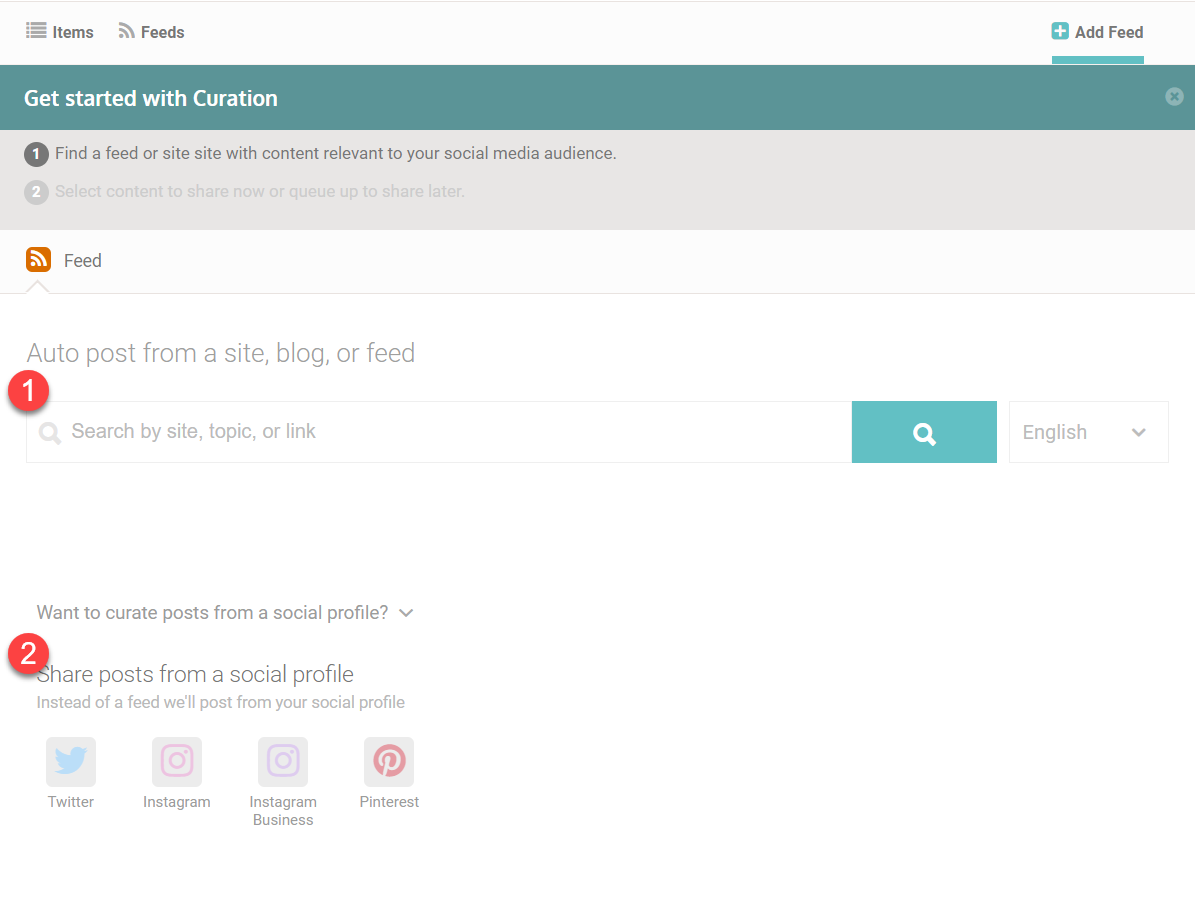 1) Use the search box to enter a complete RSS feed URL or just a website name (e.g., "New York Times"). Select the feed you want to use from the search results.
OR
2) Choose content from one of these sources:
Instagram
Pinterest
Twitter
Step 2: Review and share curated items from your curation tab (Note: Any Feeds in your Curation tab will count toward your Feed limit.)

After adding the source, content will be displayed in a list.
1) Items: List of content items pulled from the source RSS feed
2) Share: Click to share the item and reveal sharing options
Step 3: Edit and control when to share curated items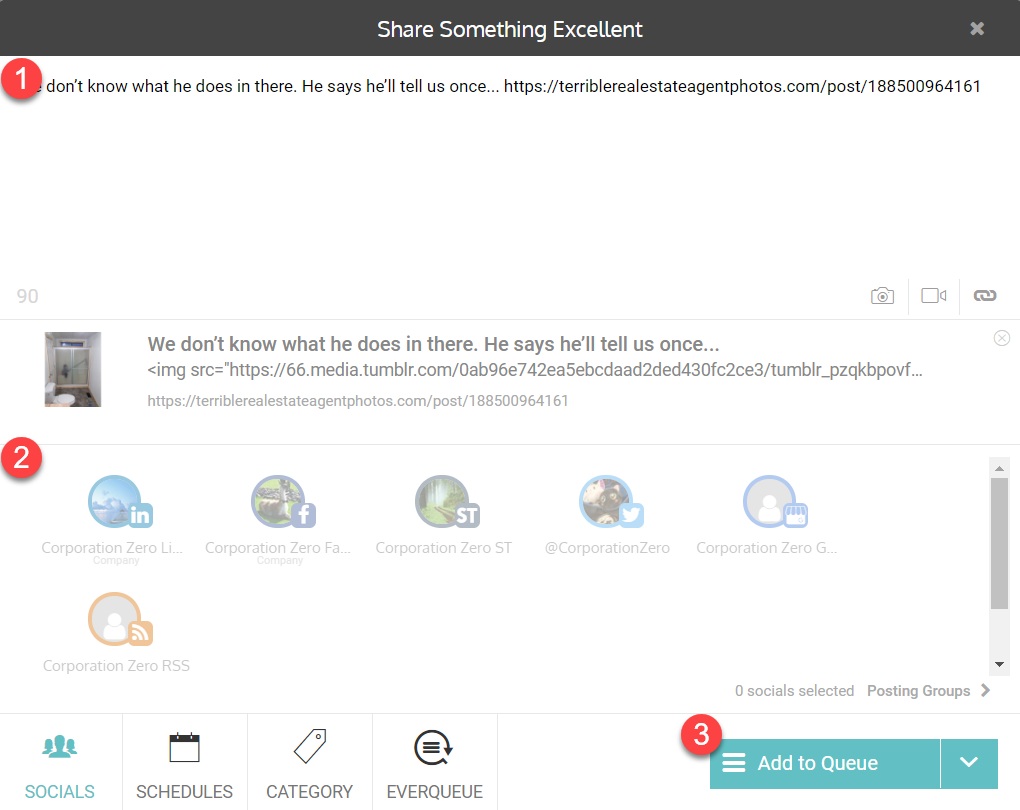 1) Edit, add hashtags, and include personal comments before sharing an item.

2) List of social networks where the item will be shared. Click the social media icon to remove it from receiving the post.

3) Click one of the sharing options that best fits your needs:
Share Now
Share Next (moves to the top of your Queue)
Schedule Post for a specific day/time
Add to Queue
Category - add a category to the post
EverQueue - add your post to EverQueue
Reviewing Your Queue
Check out how to review your Queue with the instructions here.
To see all the great features dlvr.it has to offer or to address your specific questions, please explore dlvr.it support or contact support@dlvr.it.